FN Wheels Updates and Shipping Lead Times October 2018
October 16, 2018
FN Wheels
Orange, CA
(855)WHEEL-00 – USA/Canada
+1-951-735-1100 – Local/International
Dear FN Wheels Friends and Customers,
Thank you for your interest in our products!
FN Wheels will be closed for shipping and will-calls from October 18 – 22, 2018 for a company trip, and we will open again on Tuesday October 23, 2018. Please do not hesitate to place an order during this time as we will be processing all orders received. New orders for in-stock items placed after 3PM on October 16 will ship on/after October 24, 2018.
We will have limited ability to receive and return phone calls during the time period of October 18 thru 22. Please feel free to e-mail us at [email protected] or contact us by phone toll-free: (855)WHEEL-00 (855-943-3500) with any questions. You may need to leave a message if you call us, but we will return all calls. We're also available via text message at (714)390-9387. We'll try to respond to all calls and text messages as quickly as possible. Thank you for your patience.
We know that many of our customers are interested in our popular FX Pro wheels. We will have more FX Pro wheels back in stock later this month (October). Thank you to all of our customers that have placed a pre-order for the FX Pro wheels. If you've already pre-ordered please expect a call with an update and a call/e-mail with tracking information by approximately the last week of October or first week of November. Please see your invoice for your estimated shipping date.
We're also excited to announce that we'll be adding new sizes to the FX Pro (16×8" and 18×9") later this month. More information will be posted soon, and once all pre-orders are fulfilled for the 17×8" FX Pro wheels we'll have online ordering back up for the FX Pro. In the meantime you can call us to place a pre-order.
Toyota Canada OEM cargo liners for the 2010+ 4Runner with third row seating will be back in stock on or about October 25, 2018. These cargo liners are perfect, OEM fit for the 2010+ 4Runner with third row seat. We have a shipment en route from our Canadian Toyota source now. Current pricing is $135 / ea plus shipping, and we are taking pre-orders now. Toyota does not package cargo liners in boxes (just plastic bags), but we have ordered custom fitted boxes to ensure safe delivery to our customers. All cargo liners ship well packed, boxed up, and fully insured from FN Wheels in Orange, California USA to you. There's no need to pay for expensive shipping from Canada or to pay unfavorable currency conversion rates when ordering from FN Wheels.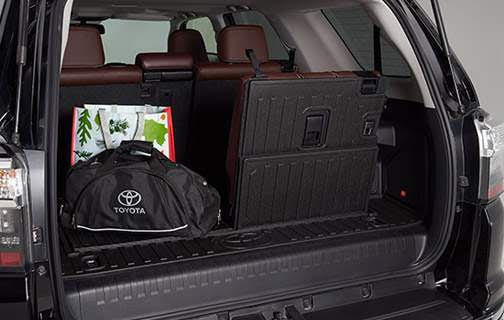 As always, we thank you very much for choosing FN Wheels!